Cosmic Byte Callisto Wireless Gamepad
Brand: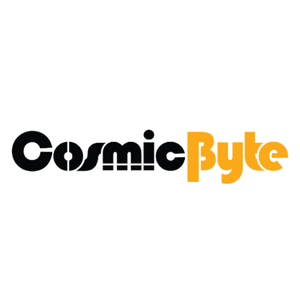 Cosmic Byte
1. Ergonomic Design.
2. Textured Grip.
3. Sensitive Triggers.
4. Accurate Analog Sticks.
5. ABXY Backlighting.
6. 2 Customisable Macro Keys on back of the controller.
7. Zero Lag connection (using dongle) on Callisto Wireless Controller.
8. 6-8 meters wireless range for Callisto Wireless.
9. Vibration Feature.
Out of stock
... people are viewing this right now
---
Cosmic Byte Callisto Wireless Gamepad
Sit back and chill out while you game on the new Cosmic Byte Callisto Series of Gaming Controllers! Available in both wired and wireless configurations, making your gaming needs the top priority.
Enjoy an impressive gaming experience with the Callisto Controller's 2 Programmable Buttons on the back, ultra-precise D-Pad, and an Ergonomic design with a Textured grip – giving you multiple gameplay options and pulling you deeper into the game.
The Callisto Gaming Controller comes with two, Accurate Joysticks and Sensitive Triggers on the front make you go guns blazing with your gameplay!
LED Backlighting on the ABXY/Action buttons, LED Light-Bar gives the Callisto Controller a smart look.
The premium Matt Finish and Vibration feature engage you with a great tactile feel in your hands.
Enjoy even more with the Callisto Wireless Gamepad! Take advantage of a range of up to 8 meters and a Zero-Lag connection using the Wireless Dongle.
The Callisto Series Controllers come with an Industry Standard 1-Year Warranty against manufacturing defects.